Free Knitting Patterns
...see more

Make a Comment
More Christmas Knitting Patterns:
Knitted Santa
Knitted Christmas Tree Ornaments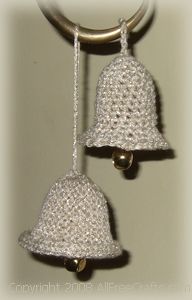 Knitted Christmas Bells
by Jane Lake
The two Christmas jingle bells shown here can be made up quite quickly, but look lovely as a homemade ornament on the tree. The lower bell, with the rolled brim, is the knitted version, but we also have instructions to make
Crocheted Christmas Bells
as well.
The samples shown were done in a worsted weight sparkling metallic yarn, but you could use finer yarn and smaller needles to make smaller bells. You may also adjust the length or circumference of the knitted bells, as discussed below.
These looked so pretty that I thought they would make lovely wedding bells, done in white.
Materials:
Knitting needles - mine were inherited from my Grandmother, made in England, and stamped as Size 9, or 3&frac12 m/m
Patons Brilliant Crystal Cream yarn
brass jingle bells
bodkin or yarn needle
Note: Photo at right is shown actual size.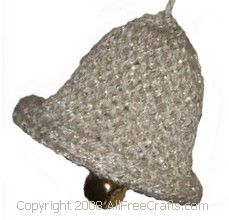 Pattern:
1. Cast on 15 stitches (to make the bell longer, increase this by 5 stitches).
2. Knit across first row.
3. Purl 5 stitches, and knit across remaining stitches.
4. Knit across row.
Repeat Rows 3 and 4 until you have at least 28 rows. (You can increase the number of rows if you''d like the bell to be rounder.) Cast off.
Thread a bodkin with a length of yarn and sew up the short sides (with right sides together). Turn right side out.
Thread bodkin with another length of yarn and sew a gathering stitch around top edge of bell. Pull yarn tight and tie off. Use end of yarn to form a looped hanger at the top of the bell.
With your fingers, roll the purl stitches up into a brim. They will tend to curl out and up anyway; just encourage the process with a little rolling motion of your fingers.
Tie a piece of yarn to the top of a brass jingle bell. Secure this to the top inside of the knitted bell, so that the brass bell hangs just below the rolled brim.

1-10 of 12 Comments
Pamela
– Oregon, United States
Apr 06, 2010 - 15:57
Using this pattern with smaller needles and casting on 9 with the rim of the bell being 3 stitches is perfect for decorations on presents and making lapel pins.
anyone can replie to my comments
Elizabeth
– United States of America
Nov 23, 2009 - 21:27
This is a great project! I have just started knitting and it is great to have a decoration in time for Christmas. I hope you don''t mind but my sister is getting married in March and I would like to make these for her. Please keep posting patterns!
P.S. My kids love ringing them!
Reply to Elizabeth
wow have you finished them
Less of a comment than a question... I''ve tried to find what I''m doing wrong on the web and in books, but with no luck. When I knit this bell a stitch is added everytime I finish with the p5, k row. So when I finished I was left with a very strange shape and no clue how to sew it together to make it look anything like a bell! Any tips? Thanks!!! These looks just like the ones my mom always loves on the tree!
Reply to Kendra
malissa
– Philidelphia, Pennsylvania
Nov 23, 2009 - 21:33
I am not sure whats going on with the adding a stitch thing.That keeps happening to me too but I tried again and suddenly I had the perfect bell. I don''t know what I did but keep on trying because it worked for me!
Reply to Kendra
louise forget
– timmins ontario canada
Dec 08, 2009 - 12:37
what might be happening is when you go from purl to knit you forget to bring your wool back to the knit side of work . when you forget to return you wool to the knit possition you automaticly wrap wool around needle creating an extra stitch every time hope this doesn''t confused you . if so call me 1 705-232-4606 i''ve thought knitting stiches over the telephone line good luck.
Reply to Kendra
After you have knit and the yarn is coming from the back, before you start purling, move the yarn to the front of to start purling.
Reply to Kendra
This might be a little late, but make sure when you do the purl stitches that you put the yarn in front of the needles instead of behind, like you have for the knit stitches. I''ve noticed that when I do purl stitches without remembering to switch the yarn to the front, I usually end up with an extra stitch, which is easy enough to just drop on the next row. Great project, btw! I''m working on it right now for our tree, since it looks a bit bare.
Leave a Comment
1