Free Crochet Patterns
...see more

Make a Comment
More Free Crochet Patterns:
Vintage Hot Water Bottle Cover
Crocheted Jar Cover
Crochet Corner Bookmark
Dancing Shells Washcloth
Crochet Butterfly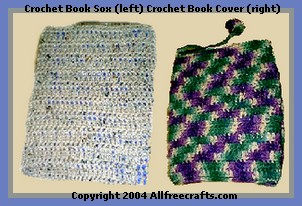 Crocheted Book Sox or Crochet Book Cover
Designed by Twila Lenoir
Choose one of two crocheted book covers - a simple crocheted book "sock" to protect any book that you slip inside, or a traditional book cover with flaps to hold the cover in place while you read, and a handy attached bookmark.
What you will need:
Your choice of yarn
Thread elastic
Your choice of hook
Ready:
Crochet Book Socks (or Sox)
Open the book, and make a chain a little longer than the book. In second chain from hook, single crochet, single crochet across. Turn, chain 1 single crochet across. Repeat until the width of the book. (Book closed, up and down) Fasten off.
Now thread a needle with the elastic, with a knot in the end and go around the outer edge of the sox so that it has some gathering. Fasten off. This is the tan picture, (top left photo). Slip a book inside the "book sox" for gift giving or to protection.
Crocheted Book Cover
For the variegated book cover shown in the photo above (on the right), make a chain the size of the open book. Single crochet as for the first book sox. After fastening off, fold in both sides, like a normal book cover and stitch the outer edges with yarn. On the top center of the book cover, join and make a chain, 3 double crochet in second ch from hook, ch 1, 3 double crochet in same chain, fasten off. This will be the book mark. Add a matching tassel or small pom-pom, if desired.
101 Easy Scrap Crochet Projects
Don''t throw away your good scrap yarn!
101 Easy Scrap Crochet Projects
has over 100 great scrap crochet projects for using up left over yarn, including vests, afghans, doilies, kitchen sets and cuddly dolls.

There are 7 comments
thank you very much
you are realy nice
My wife wants to know if you have a guideline on how to make a Bible Crochet Cover. She needs step by step instructions. If you do not have this, will you please tell us where she can find the information? Thank you very much.
Do you have a book cover pattern with flaps to hold the pages when you are done reading?
Pam Graves
– Johannesburg, South Africa
Nov 09, 2008 - 16:20
Nice patterns, but can''t be printed. Please make printing available on your site. Thank you.
Reply to Pam Graves
Jane Lake
– Editor at AllFreeCrafts
Nov 09, 2008 - 19:23
Allow the page to load completely in your browser, then click on the Printer Friendly link at the bottom of the pattern. That will open a printable page with just the pattern instructions, photo, and copyright info on it.
Reply to Pam Graves
Jan Penny
– United States, Michigan
Jun 21, 2009 - 12:22
When I find something that I want to print, I select the article or the photo and copy it. Then I minimize that page and open my Word program and paste the copied item into the Word program. You can make adjustments to your copied and pasted article any way to choose. It''s been a wonderful way for me to copy things and tailor them to the way I want them before printing them out.
Good Luck..............
Leave a Comment
1