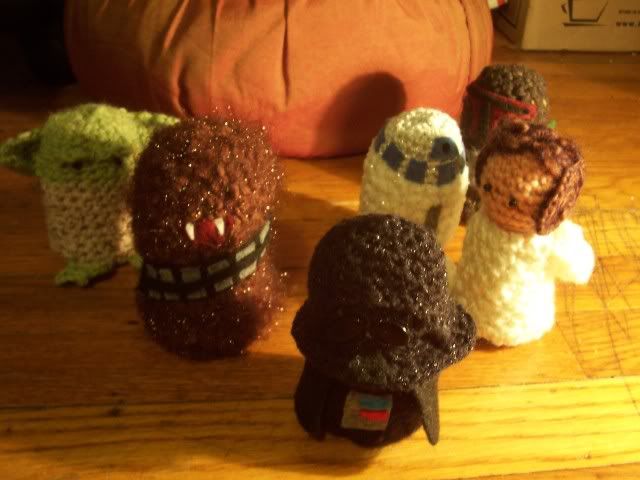 These were really easy and fun. One of the huge reasons I learned to crochet was that it is so easy to improvise as you go along. Unfortunately, it makes it very hard to write patterns (i.e. "how did I do that?") So, consider this a basic tutorial. This project is a stash buster- all those little endlings of different skeins will come in handy here.
First, google a picture of the character you want to do, and pick a few outstanding features. Using a G hook, ch 10 sts into magic loop. Join with sl st, then, without turning, sc2 into each ch to make a dome shape, or to make a pointy head (for yoda, etc), sc into ch, then sc2 into next ch, repeat. Continue increasing until diameter is as large as you want amigurumi to be- for me it was 3-4 rows, then continue sc into each sc in a spiral. When amigurumi is as tall as you want it to be, stuff it with filling, and something to weigh the bottom down. I use pennies, whatever I have laying around. Do one of row of sc2 into every sc stitch, then skp 1, sc1, repeat, until you have 1 st left. This will give a nice, flat bottom. Pull yarn into a knot, and you're finished. For Leia, I did one additional decrease & one increase row for the neck: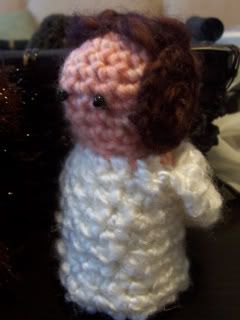 To make her hair, I crocheted a bunch of strands of yarn into a line across the top of her head, the way you would do fringe, and then parted them down the middle. I then braided 3 long pieces of yarn, cut out a piece of felt, and hot glued the braid in a spiral onto the felt. I then hot glued the felt onto the sides of Leia's head, pulling in the loose ends of yarn underneath. I also crocheted a "hood" onto her back from a small rectangle. Just crochet one long side of a rectangle together, voila, easy "hoodie".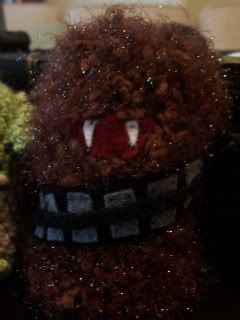 For Chewbacca, I used a super fuzzy yarn, and crocheted a simple dome from top to bottom. I then cut eyes, teeth, and a bandolier from felt and handstitched them on.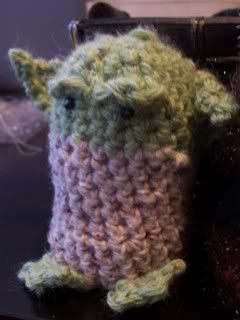 For yoda, I made a pointy head, and then separately crocheted 2 long triangles for pointy ears. I attached my yarn and did a single crochet row for each eyebrow. For the feet, single crochet 3, then turn and sc2 into sc, sc, then sc2 into sc, turn, and sc, slip, sc, slip, sc. This will create a web-like foot.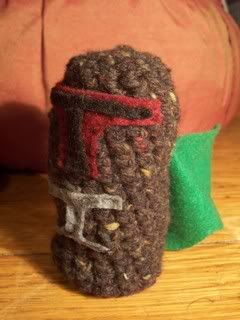 Bobba Fett was just like Chewie, except I cut out a felt mask, armor, and cape instead.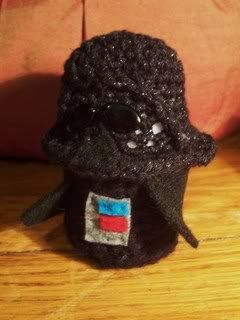 For the bottom edge of Darth Vader's helmet, I increased for 2 rows, cut yarn, then reattached & crocheted a regular row into the *underside* of the increase rows. After finishing, I went back and crocheted a row of sc for the face part of the helmet. I used beads for eyes, and used felt for the cape and other details.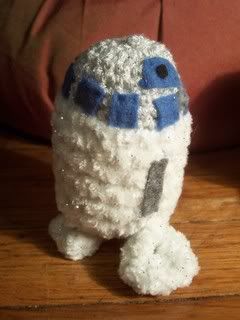 For R2D2′s feet, I attached yarn to the bottom, then created a square by crocheting a sequence of sc, hdc, dc, tc, dc, hdc, sc. Do this twice to make a square. Repeat for each foot. If you are using thinner yarn, you may want to do a sc around the edge for more width.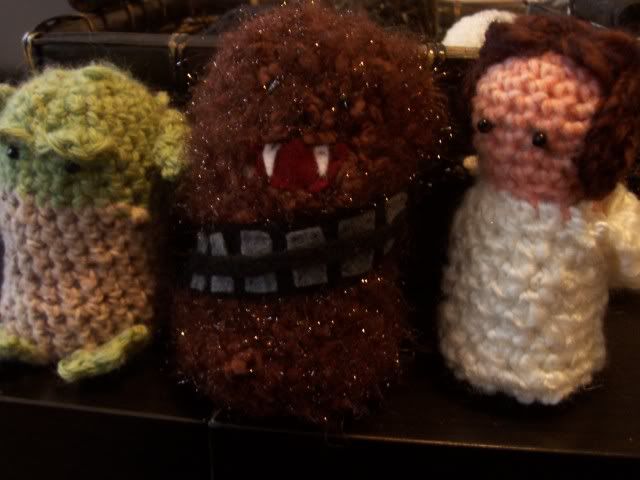 Don't worry if these instructions don't make sense just reading them, once you get going, it's easier to see how it works. Best of all these are small, so no big loss if it takes a few tries to get the right shape. It's truly amazing how much personality a few pieces of felt can take on… so cute they are hard to give away!