Free Crochet Patterns
...see more

Make a Comment
More Free Crochet Patterns:
Beagle Filet Chart
Dolphin Chart
Unicorn Chart
Tiger Filet Crochet Graph
designed by Kathy Wilson
Print the image below and follow the pattern instructions to make this filet crochet tiger pattern.
Copyright 2005-2008 Allfreecrafts.com
Do not reprint or copy except for personal use. Please see our
Terms of Service
for more information.
Materials List:
# 10 crochet thread

Size 10 steel crochet hook

Tapestry needle


Tiger Filet Crochet

Instructions:

CH 460

Row 1:
DC in 4th ch from hook, dc in each ch across (foundation row), ch 3, turn, (first dc now and throughout pattern.)

Row 2:
Dc in each dc across. Ch 3, turn.

Row 3:
Dc in next 3 dc, (closed block made), ch 2, skip next 2 dc, dc in next dc, (open block made), *ch 2, skip next 2 dc, dc in next dc, repeat from *, dc in last 4 dc.

Follow pattern until completed.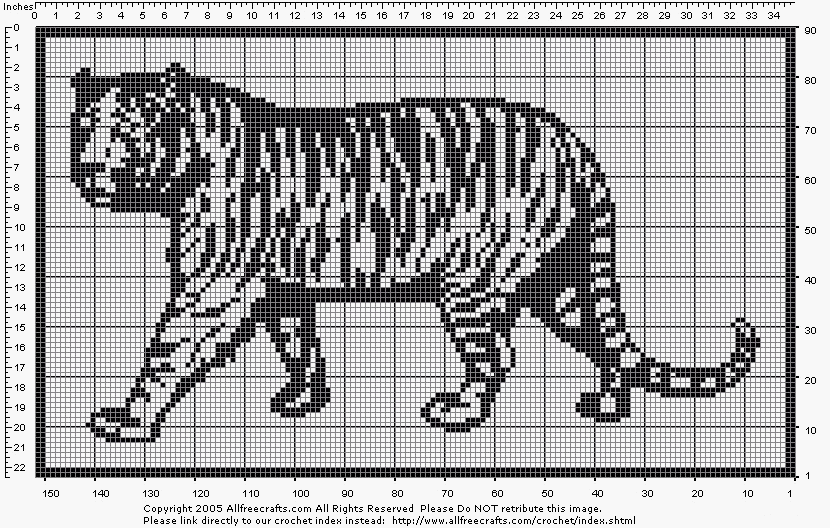 1-10 of 13 Comments
A great pattern. How many balls do i need to make this tiger?
And what colors should I use?
Sinta
Reply to Sinta Hamdani
melissa murphy
– trenton, south carolina
May 12, 2010 - 22:04
i have not done this tiger in filet crochet, but in future when I do, I would like to use a black size 10 cotton thread and then when finished with project may hang in front of a large piece of orange cloth so it will look like a real orange/black tiger.
cheyenne maxey
– marrannia,PA
Feb 15, 2010 - 17:54
this is a gr8 pattern im only 12 but if any one has any suggestion 4 me i would love to try them.
sincerly,
Cheyenne Maxey
I''m looking for a pattern of a Camel.
patricia
– barnwell south carolina
Oct 02, 2009 - 10:46
this is a great pattern. I hope to crochet it when I get the time. I can just imagine the comments I will get when my visitors see it.
Ruth Steidinger
– Fairbury,Ill.
Sep 08, 2009 - 11:20
I would like to make a filet sampler of my last name.can any one help make a pattern to make it? I have only been making baby afgans .have not crocheted a lot .can anyonemake a template of STEIDINGER.
Reply to Ruth Steidinger
Kathryn
– Southern California
Sep 21, 2009 - 02:00
This is a site address just in case no one answered your query about the Alphabet for filet. Make sure you space them evenly or it will look lop sided. Don''t get discouraged though. A real crocheter is used to tearing out to back up and do it again. LOL
Here you go, I hope this helps.
Reply to Ruth Steidinger
Lynn Begor
– New Hampshire
Nov 02, 2009 - 09:50
Free Alphabet Graphs - CrochetKim_com.htm
Hi, This is my first time on this site and I tell you, the stuff is GR8!!!
I have been crafting, knitting and crocheting for the past 32 years and I am always motivated when I see other peoples work.
Keep it up!
Jean
– Queensland, AUSTRALIA
Aug 03, 2009 - 11:14
Iagree with Carolynand Mary the pattern is great.
Jean
Leave a Comment
1